Riotously multicolored fall foliage and blankets of winter snow. Walkable streets filled with architectural treasures ranging from funky vernacular nineteenth-century saloons to stylized Art Deco landmarks. Pageantry- filled Cornish- and Victorian-themed holiday celebrations. These scenarios might sound like visions conjured by a Hollywood production designer, but these features and much more make up Grass Valley and Nevada City's character.
The history and myths associated with Nevada County's Gold Country are less likely as known to Southern Californians as their counterpart Golden State denizens further north. A short flight to Sacramento followed by an hourlong drive makes this destination easily accessible and yet completely transportive.
"Grass Valley and Nevada City are such amazing escapes where people want the charms of small towns," says Anthony Jones, general manager of the National Exchange Hotel in Nevada City and a passionate custodian of local history. Miners themselves mostly lived in and around Grass Valley, whereas the ownership class resided in Nevada City's showboat Victorian homes. Jones notes how this region "tells a story" to visitors. Get ready to explore its irresistible appeal and deep well of intrigue.
Stay
The recently completed major renovations of two jewels in Nevada County's crown make the case for adding these towns to your travel list. The Holbrooke Hotel in Grass Valley and the National Exchange Hotel in Nevada City are less than 10 minutes apart along CA-49 and share 170 years of history.
Sherry Villanueva of Acme Hospitality, the group behind multiple popular Funk Zone venues in Santa Barbara, spearheaded the formidable restoration effort. Thanks to
the collaborative interior design work of Bri Ingram, Anne L'Esperance, and Doug Washington, these two landmarks that were built to service the Gold Rush boom are both firmly rooted in history and cleverly updated to current tastes.
Grass Valley visitors Mark Twain and multiple United States presidents rubbed shoulders with far more rugged types at the Holbrooke Hotel (212 W. Main St.). Its 28 guest rooms and public spaces keep this Western spirit alive with decor touches and antique finds, featuring generous amounts of taxidermy, local stone, and leather-covered surfaces. The Purcell House at the back of the property originally was a livery station for the town and now contains 11 additional rooms with nods to its equestrian-focused past.
The National Exchange Hotel (211 Broad St.) has stood proudly on Nevada City's main drag since 1856. Today its idiosyncratic character is layered with fresh interpretive flourishes. Lush floral wallpaper patterns originally designed or inspired by British decorative arts hero William Morris emblazon the interior walls, and original guest registers on display in the lobby stairwell. The 38 guest rooms are coordinated in a brighter palette that contrast with some of the National Exchange's moodier corners. Largely female local historic figures—as well as traveling theater troupes who regularly passed through Nevada City and added to its flourishing bohemian culture—maintain a presence through the vintage photographs on display.
Eat
The Golden Gate Saloon at the Holbrooke has been reimagined as a spot where you can saddle up to the bar to order a stiff classic cocktail and then enjoy chef Zachary Ahrenholtz's culinary creativity. (The venue dates back to 1852 but was rebuilt following fires in the 1850s and 1860s.) Dishes such as birria short rib and hominy with mole estofado incorporate Mexican ingredients and techniques with local ingredients, referencing California's multicultural origins. After dinner, slip into the Iron Door speakeasy located beneath the Holbrooke for cocktails served with mining era–atmosphere and tall tales.
In downtown Grass Valley, Marshall's Pasties (203 Mill St.) expresses the town's Cornish immigrant history with its beloved version of the traditional meat-filled shortcrust savory pastry associated with Cornwall, England. The candy, ice cream, and artisanal chocolate offerings at Lazy Dog Chocolateria (111 Mill St.) indulge sweet-tooth cravings and nostalgia.
Lola at the National Exchange pays homage to the legendary nineteenth-century performer and courtesan Lola Montez. Sumptuous turquoise banquettes and sculptural lighting blend a retro and modern aesthetic that complements chef Tom Bevitori's French-inflected menu with Californian moments. Starting with the impressive collection of cocktail shakers that adorns the entrance foyer from the street, lavish design elements and the stellar craft cocktail program at the National Bar go for dramatic impact.
Elsewhere in town, locavore-oriented Heartwood Eatery and its newer Annex (237 Commercial St.) run by former Chez Panisse chef Scott Weidert make for a buzzy pocket at the end of Commercial Street alongside neighbor Three Forks Bakery & Brewery Co. (211 Commercial St.).
Do
Stroll downtown Grass Valley's primary drags Main and Mill Streets, the latter of which has been converted to a pedestrian- only strip full of indie businesses. Try on milliner Jacqueline Miche's bespoke handmade hats at her boutique Mill and Main (201 W. Main St.). Peruse the shelves at independent retailers the Book Seller (107 Mill St.) and Booktown Books co-op (107 Bank St.). Follow the neon spire to the end of the street to take in the Art Deco splendor of the Del Oro Theatre (165 Mill St.).
The Empire Mine State Historic Park (10791 E. Empire St., Grass Valley) gives an up-close look at the Nevada Country's signature industry. Go deep (literally) to learn about the mechanics of the facility that extracted gold until 1956.
Hiking and nature exploration opportunities beckon in these parts. The Buttermilk Bend Trail at South Yuba River State Park (17660 Pleasant Valley Rd., Penn Valley) is a gentle option; a bonus is the recently restored 1862 Bridgeport covered wooden bridge that leads to the scenic path.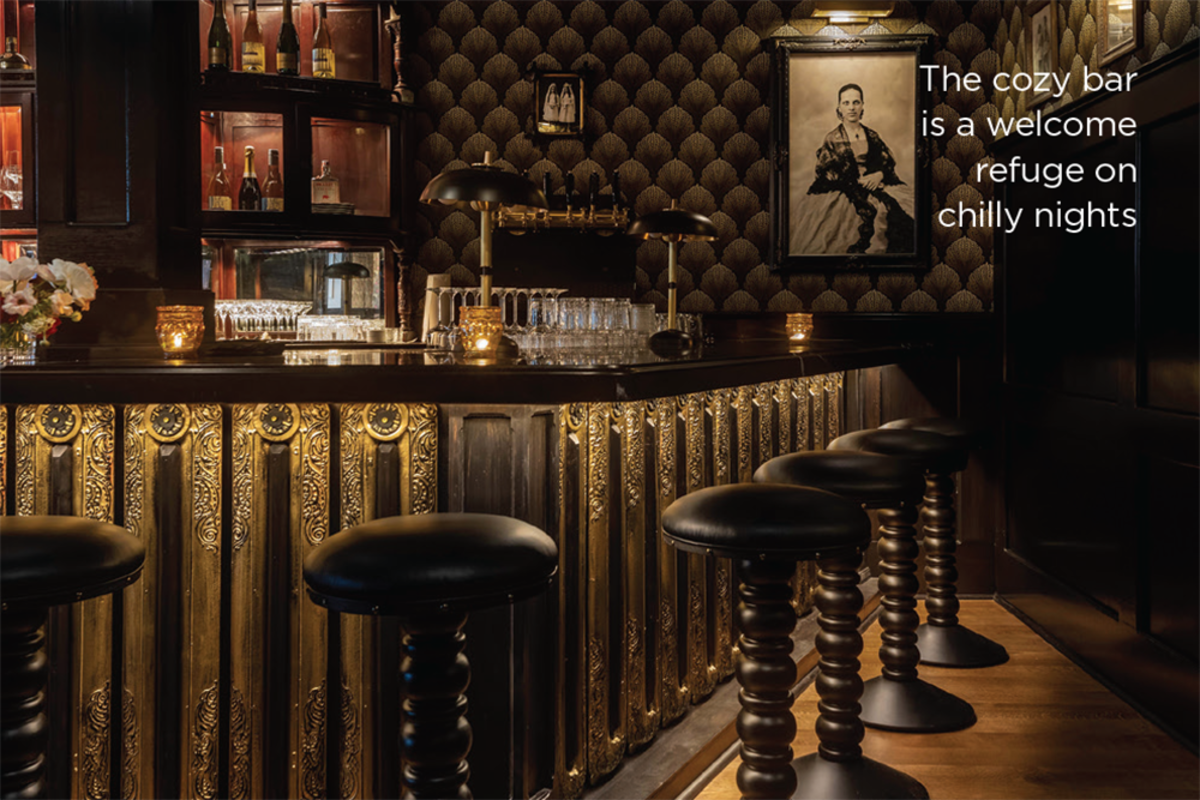 Gold Rush lore and social history are far more nuanced than dominant romanticized Wild West narratives suggest. The Ancient and Honorable Order of E Clampus Vitus fraternal organization's bronze and stone marker plaques dedicated to Grass Valley's eradicated Chinatown placed in 1969 and the Ladies of the Evening in Nevada City in 1972 point to less visible histories related to gender, race, and sexuality.
The Uba Seo Gallery (225 Broad St.) and Nevada City community space operated by California Heritage: Indigenous Research Project presents multidisciplinary exhibitions and installations that spotlight the struggle for the Nisenan tribe's land rights and recognition.
Take in Nevada City high vibrations at Kosmos Spa(ce) (426 Broad St.), where owner Rachel Budde, an artist and herbalist, welcomes guests into the hybrid spa, wellness boutique, and cafe that serves house-made gluten-free and vegan treats.
Nevada City's robust shopping scene includes multiple boho- chic emporiums. Kitkitdizzi (231 Broad St.) and Tysa the Store (300 Spring St.) share a California-centric ethos. Good Morning Supply Company (211 Broad St.) tucked into a storefront at the National Exchange carries all things sundry. Check out Tiger Alley (400 Broad St.) for its groovy selection of vinyl and vintage goods. Browse Atra Nova by Sheila B. (219 Broad St.) for everything from Moroccan rugs and statement jewelry to another category of items commonly spotted around these towns: crystals and spiritual tools.